Home > Local Auction History by TimeLine Auctions
---
Back to previous page
LOCAL AUCTION HISTORY
The documented history of auctioneering in Brentwood begins in 1860 with the establishment of Joseph Hibbard & Sons in Newington Green, Islington, North London, who in 1921 opened the subsidiary, Brentwood Auction and Estate Offices.
Mr Douglas Hibbard, who is still resident in Herongate, is the third generation of the the influential Hibbard family to run the family business which began specialising in household removals, warehousing and estate agency, with complementary activities as auctioneers, valuers and surveyors.
Advertisements were taken in various publications including The Times, The North Wales Chronicler and Advertiser and the London Gazette from 1919 onwards. Despite tough trading conditions, the firm won a contract from the War Office to dispose of stockpiled materials no longer needed with the cessation of hostilities at the end of WWII.
The London business continued to thrive with its own fleet of vehicles, stables for the horses, a wheelwright's workshop, blacksmiths and clerical staff totalling thirty persons. The vehicles were of the 'pantechnicon' type, up to 18' long with four large wheels and drawn by a team of horses. The business was managed by Hamilton Leonard Hibbard in conjunction with his three sons, one of whom – Leonard Hibbard – relocated to Brentwood in 1922 with his wife and young family, including his daughter, Pamela, born in 1927 and two-year old son, Douglas, who later went on to attend Brentwood Grammar School. Offices were opened at 18 High Street, Brentwood, with two permanent staff and a team of removals men and journeymen.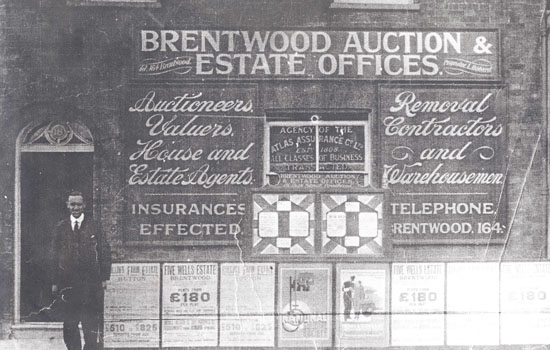 The photograph shows Leonard standing proudly outside the Brentwood Auction and Estate Office at 18 High Street, Brentwood in 1922. The family lived on the premises.

In 1930, Leonard was elected Chairman of Brentwood Urban Council, and also held the post of the Honorary Secretary of Brentwood and District Chamber of Commerce (see photograph). During the Great War he had been Lieutenant of Territorial Forces, and was later attached to the War Department Valuers Staff. He was also appointed a Justice of the Peace.
The early years saw a lively trade in poultry and livestock as well as dairy products from their High Street premises, rented and finally bought from Mr. Ramuz, the developer who was active in building the resort of Southend-on-Sea and mayor of that town from 1898 to 1900.
The Hibbard family had also bought a site at 54-56, Rose Valley, Brentwood, from the London School Board of the then London County Council. It had been established in 1874 as an industrial school for boys with on-site facilities such as workshops, a sanatorium, swimming pool and dormitories. The LCC school was not a great success and closed in 1902, but Douglas' grandfather saw the site's potential as a location for furniture storage with two dedicated auction rooms.
During the Second World War, the trade in foodstuffs and livestock was rationed so the business diversified into household removals, house sales and auctions held at locations in Romford, Brentwood and Wickford. In those days, the standard seller's commission was '6d in the Pound' ( i.e. 1/40 or 2.5%) while buyers paid no commission at all.
Brentwood Auction and Estate Offices produced a street map of Brentwood and the surrounding area (see photograph of the cover and map) for use by prospective clients, presented with the company's compliments.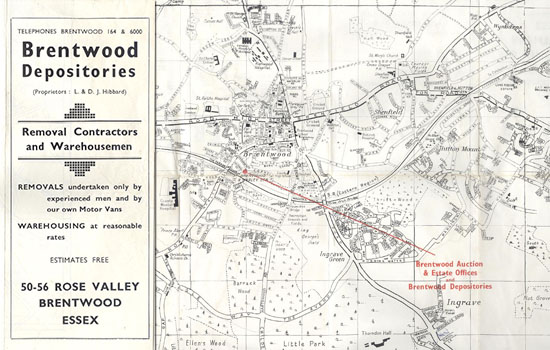 Joseph Hibbard and Sons sponsored the Brentwood and District Directory and Guide in 1930, printed by the Brentwood Gazette. The firm had a full-page advertisement on the back cover (see photograph).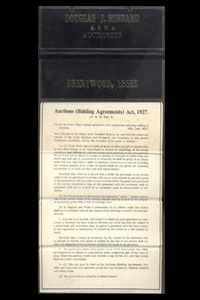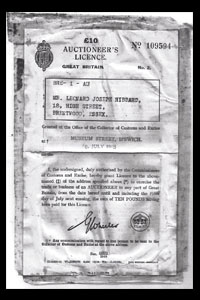 Due to their father's deteriorating health, Pamela Hibbard helped with the running of the business while her brother was called up for national service. Douglas served in France, Egypt, Palestine, Lebanon, Syria and Persia and visited Sierra Leone and South Africa en route. His father's auctioneer's licence issued by Collector of Customs and Excise of Museum Street, Ipswich since 1922, the earliest example of which is dated 6th July 1948 (no.109594) (see photograph). Douglas's own licence was later issued in the more modern format still in use today (see photograph). He married in July 1948 and took up residence in Herongate, in cottages bought by his father, and has lived there ever since.
'Hibbards', as the business was then known, was not the only auction house in Brentwood at this time. R. Torrington Partridge of 137 High Street also acted as agents for sale and valuation of town and country residences, agricultural businesses and commercial premises. Other auctioneers in the Brentwood area in the 1920s were Walter H. Munday, Jinman and Rippengale and Howard Guttridge. Hibbards also traded at various times under the names 'Brentwood Depositories' and 'Brentwood Auction Mart'. Sales were attended by numerous prospective buyers, and were something of a social event. Attendance by forty or fifty people was not unusual and on one occasion, as many as a hundred adults attended a Hibbards sale in Herongate.
Although he moved into property valuations in the decade prior to retirement in 1990, Douglas never lost his enthusiasm for auctioneering. He has passed on a wealth of information to us, and retained a family connection by encouraging his granddaughter Helena to join TimeLine as one of our client account managers. It's an appointment that sustains a five-generation Hibbard link to the auctioneering profession and strengthens TimeLine's on-going connection to the proud history of auctioneering in Brentwood.

---