Home > Stories by TimeLine Auctions
Stories by TimeLine Auctions
Charles I, II, III: A Trio of Controversial Coronations

All three English monarchs named Charles have divided public opinion on issues that cast shadows on their crowning ceremonies. On the other hand, all three have bequeathed to us interesting coin issues worth adding to our collections. Let's run through some of the time lines and historical events that connect the enthronements of these kings.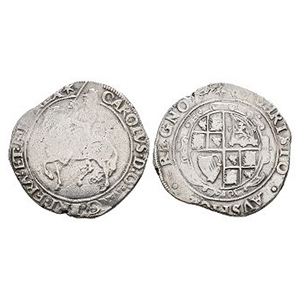 Charles Stuart became Prince of Wales in 1616. His father, King James, hoped his son would marry a Spanish princess, and that England and Spain would then form an alliance to end costly European wars. A personal visit by Charles to the Spanish court for a meeting with the princess in question achieved nothing apart from demands from the King of Spain that the Prince of Wales must convert to Catholicism before he took a Spanish wife. Aware that the English Parliament would rebel if he acceded to Spain's demand, Charles returned to England without a bride.
He inherited the kingdom when James died in March 1625. Two months later, following secret negotiations with the Catholic king of France, a proxy marriage ceremony took place at the doors of Notre Dame Cathedral in Paris, between Charles and the Catholic princess Henrietta Maria of France. Henrietta crossed the Channel a few weeks later, and the newlyweds met at Canterbury on the 13th of June. Charles then refused to open Parliament until after the consummation of the marriage to ensure that Protestants in the Parliament had no opportunity to oppose his marriage to a Catholic. His coronation at Westminster Abbey was set for February 2nd 1626, where the crown was placed on the king's head without his queen at his side. Henrietta refused to participate in a Protestant religious ceremony; she even declined to witness the event in secret from a private room within the abbey. When the Scots demanded a crowning of the new king in Scotland, Charles travelled to Edinburgh, where an Anglian coronation service took place at the Palace of Holyrood on 18th June 1633. Again, Henrietta refused to take part.
Twenty-three years later, in 1649, the ancient regalia used at his English Coronation was melted down and its jewels sold off by Cromwell's Parliamentarians following Charles the First's execution. Shortly afterwards Parliament declared: "Monarchy is abolished. It is unnecessary, burdensome, and dangerous to the liberty, safety, and public interests of the people." The Queen and her younger children were safe in France, where she continued with her work of raising money and arms for the Catholic Stuart cause.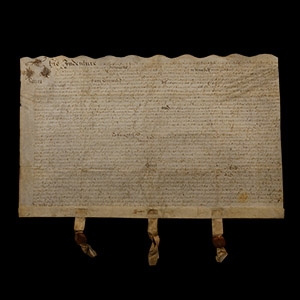 Charles II. He accompanied the king across England throughout the early years of the Civil War until 1646, when his father urged him to join the queen and support her fund-raising efforts on the Continent. The sixteen-year-old reluctantly agreed and left for France in July of that year. The devastating news of the monarch's beheading in 1649 strengthened his determination to regain the throne.
The Scottish Parliament, annoyed that the English had not consulted with Scotland before executing Charles I, responded by naming his son King Of Great Britain. On receiving that news, Charles II sailed for Scotland where, after agreeing to respect Presbyterian and Covenantal causes, he was crowned King of Scots at Scone Abbey on January 1st 1651. He sat on the sacred Stone of Scone during the simple ceremony. Emboldened, he then helped to muster a large Scottish army and crossed the border into England. Oliver Cromwell commanded the English forces speedily assembled to fight for what had by then become the Commonwealth of England. The final battle took place at Worcester where the Scots suffered a crushing defeat. Charles II survived and spent several weeks evading capture with a £1,000 price on his head. Six weeks later he crossed the Channel in a fishing boat and reached safety in France.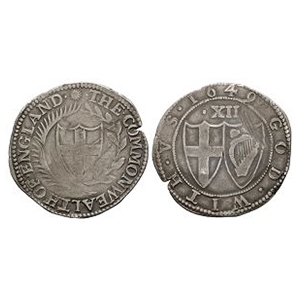 Following the death of Oliver Cromwell in 1658, the Commonwealth fell apart. Its leaders resolved to restore Charles to the throne. Conditions included his promise to forgive most of his past enemies, and to rule in co-operation with Parliament. Only the regicides who killed his father were excluded from the agreement. (Nine were later hanged, drawn and quartered; Oliver Cromwell's corpse was dug up and decapitated.)
Charles II crossed the Channel once again and reached London on 29 May 1660, his 30th birthday. Enormous crowds turned out to cheer his return; but a year flew by before his crowning took place; delayed while royal jewellers made a new set of regalia at a cost of £12,000 (equivalent to £2,000,000 today). His coronation, described as the most extravagant since that of Elizabeth I, included a magnificent procession through the streets of London on 22 April 1661, with the ceremony taking place the next day, St George's Day, in Westminster Abbey.
Charles did not take a wife until 1662 when he married Portuguese infanta Catherine of Braganza. They had no children; but Charles, a notorious womanizer, had thirteen sons and daughters by various mistresses. Taxpayers soon came to resent the costs of the dukedoms and earldoms received by his offspring; but those ancestors provide fascinating links to modern royals. The present Dukes of Buccleuch, Richmond, Grafton and St Albans descend from Charles II in an unbroken male line. Diana, Princess of Wales, was descended from two of Charles II's illegitimate sons: the Dukes of Grafton and Richmond. What's more, Diana's son, William, Prince of Wales and heir to the British throne, is likely to be the first British monarch descended from Charles II.
Charles III scarcely qualifies as a womanizer, but we all know what the media has revealed concerning his romantic past. We wish him and Queen Camilla a wonderful coronation and all future happiness; while not quite overlooking that through the Duke of Richmond, Charles II is also an ancestor of Queen Camilla.
Brett Hammond (Chief Executive Officer), TimeLine Auctions, 2nd May 2023